Quadcopter Drone Hubsan X4 Pro H109s 5.8G FPV 1080p HD Camera 3 Axis Gimbal GPS
---
Item condition:

New

Time left:

15h
Shipping:

FREE

Item location:

Big Sandy,TX,USA

Ships to:

Worldwide
Item specifics
Brand:

Hubsan

Fuel Type:

Electric

Model Grade:

Hobby Grade

Color:

Black

Model:

X4 Pro H109S

Country/Region of Manufacture:

United States
---
Description:
Brand Name: Hubsan
Item NO.: X4 Pro H109S
Item Name: Hubsan X4 Pro H109S High/Standard Edition RC quadcopter
Hubsan X4 Pro H109S
Common:
QuadcopterVersionHigh Edition & Standard EditionPropeller 9.4 inch/240mmWheelbase30cmMotor TypeBrushless KV1000 No.2212 X4Motor to Motor distance260mmESC30ASize30*30*20cmWeight1400gFlying Weigh(With Battery)1100-1669gFlying timeAbout 20-25minsFlight Distance1500mVideo Distance500-1000mColorBlackPackage Size60*50*30cmPackage Net Weight10kgHovering Accuracy Vertical: 0.5mHorizontal: 2.5mMaximum Angular SpeedPitch Axis: 300°/sCourse Axis: 150°/sMaximum Pitch Angle38°Maximum Flight Speed36km/hMaximum Rise/Fall Speed3m/sMaximum Operating Current32AMaximum Flight Altitude3000mMaximum Withstand Wind Speed10m/sGPS Automatic ReturnYesGeomagnetic(Headless Mode)Horizontal RotationAltitude ModeYes, Barometer, Accuracy±0.5m Quadcopter 
Battery TypeIntelligent Li-po BatteryCapacity7000mAh 25CVoltage11.1V(3S)Energy77.7WhCharging TimeAbout 65minsSize11.5*4.5*3.5cmWeight360gMaximum Charging Power366.4WCharging Temperature0℃~40℃Storage TemperatureLess than 3 months: -20℃~45℃More than 3 months: 22℃~28℃Battery PCBWithout Balance Charge Function CameraType1080P CameraVideo Resolution1920*1080 30FPSPhoto Resolution4032*3024 Effective Pixels4MPRecording Frame Rate30FPSVideo Format.AVIPhoto Format.JPGSupply Voltages2.8V~5VSupport File Storage FormatJPGWorking Power Dissipation0.72WStandby Power Consumption0.64WOperating Temperature-10℃~70℃Camera Lens SizeM7 or OptionalSupport Memory Card TypesMaximum Support 64G 
Difference:
GimbalVersionHigh Edition Standard EditionAxisThree Axis Gimbal Uniaxial GimbalAngle Shaking Amount±0.03°±0.03°Mounting DetachableDetachableControllable Range of RotationPitching:+65°~-128°Pitching:+65°~-128°Level:±145°Stability Augmentation Design±40°Rotating   TransmitterTypeH7000 Smart Transmitter FPV1 TransmitterScreen7 Inch (Resolution:1280*800)3.7 Inch LCDOperating SystemAndroid  Channel10+,Two-way Data Transmission10+,Two-way Data TransmissionGPS MoudleInternal Frequency2.4GHz2.4GHzRemote Control Distance1500m1500mImage Transmission Distance1500m1500mImage Transmission Speed30FPS/s30FPS/sVideo Output Interface3.5 Audio Interface,TF Card Slot Battery7.4V 5000mAh Lipo Battery8 x AA Battery (Not Included)Transmitter Size30*17*4.5cm23*12*4.5cmWorking Power Dissipation12.5W  
Function: GPS / RTH/ Headless mode /Barometer altitude hold/  Safe return to home mode/  Safety escape system-Parachute(Optional)
Features:
* With headless mode function,no need to adjust the position of aircraft before flying ..
* With one key return function, makes it easily to find the way home.
* Built in 1080P HD camera are tuned amazingly to capture stunning pictures and videos from the sky.
* With GPS auto positioning system, accurate positioning location, perfect advanced follower.
* Gopro camera compatible with live video out to TX(gopro not included). Hubsan 1080P HD Camera included.
* Precise Aerodynamic light weight Design.* Super strong PC plastic material body design* 5.8Ghz live video without latency,(5.8Ghz VTX integrated design)* Customer preference setting adjustable on TX* Multifunctional landing gear* Extended 2CH for your own DIY* 1/3 Axis Camera Gimbal included.* Not included the parachute
Package Included:
1x H109S RC Quadcopter
1x Transmitter
1x Battery
1x Charger
---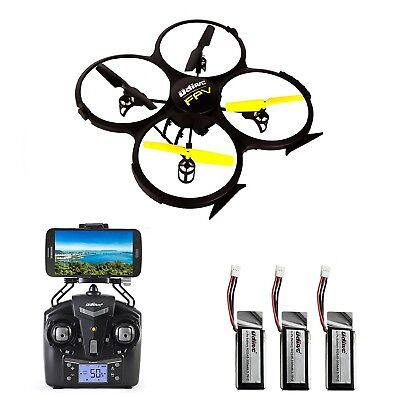 Price: $68.99